What It's Like to Be a Female Tour Guide in India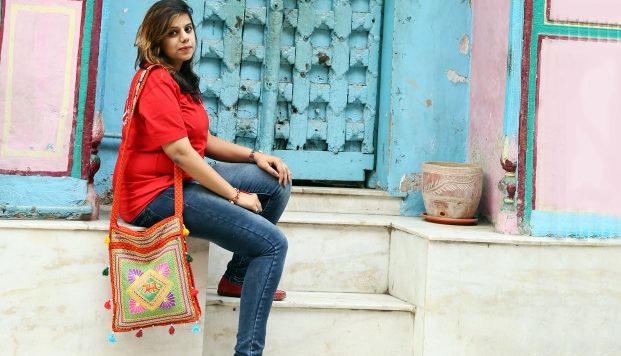 TEEN VOGUE—Her freshman year of college, 19-year-old Komal Darira wanted a job. Not only would a paycheck afford her freedom and independence—something she craved as reflected by the flying flock tattoo on her lower leg — but also help relieve some financial stress from her father, who worked hard to support their middle-class family of four. While most parents would be overjoyed by this conscientious and mature offer (even if they'd ultimately prefer the child to focus on their studies), Komal's parents were adamantly against it, especially when they discovered the profession she had in mind: Leading day tours for Intrepid Travel — the world's largest, small group adventure travel company — in her native city of Delhi, the capital of India and home to more than 20 million people.
The most socially acceptable careers for scholarly Indian women, like Komal, were doctor, teacher, or, her mom's pick, engineer. In other words, not travel guide — a position long exclusively reserved for men. It didn't help that the country is notoriously known for having a rape culture. Just a year earlier in 2012, the brutal gang-rape of a university student on a moving bus made global headlines (the victim later died of horrific internal injuries). So the thought of their one-and-only daughter hitting the mean city streets as tour guide for foreigners, including strange and potentially dangerous men, terrified her parents. The only person who understood Komal's deep desire to bravely pave her own unique way was her maternal grandmother, Kanta, who lives five minutes down the road with her uncle.
"My grandmother convinced everyone. People always say the older generations think differently, but in my family, she's the coolest. She told my parents, 'Let her do what she wants. Maybe after getting married, she might not have a good husband who will support her. So it's up to you to give her a good future,'" Komal explains just before inviting me to her home for Holi, the world-famous Indian festival of colors celebrated every March to mark the beginning of spring. Kanta — or Naani, which means grandma in Hindi — made such a strong case that Komal's parents eventually conceded, allowing her to become Intrepid Travel's only female day tour leader and youngest member on the Delhi team in 2013.
Fast-forward to March 13, 2017, it is Holi and Naani greets me at their door, placing a turmeric-colored paste, or tika, between my eyebrows as a blessing. The tall, lean, well-postured 69-year-old then sprinkles flower petals over my head and hugs me with all the love and warmth of the world. Komal, who is two months shy of turning 23 years old, and her mother, Babita, father, Sanjay, and 16-year-old brother, Luv (donning the quintessential teenage-boy-wispy-mustache) follow suit, welcoming me as if I were a long-lost cousin from America.
Read the full story on TeenVogue.com!
Photo Credit: @saroj_rai_photography