This Herbalist Is Bridging The Healthcare Gap For Latinx Farmworkers In Wine Country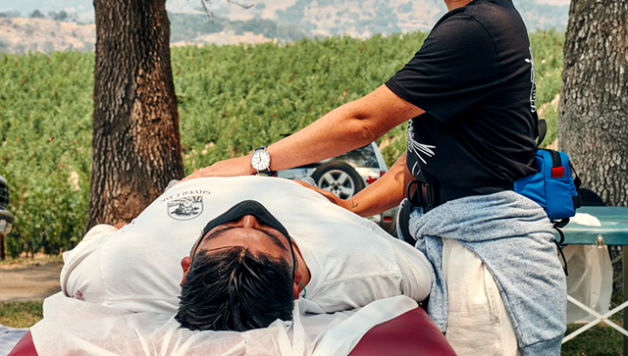 It's 9 a.m. on a Friday in August, and a group of about 40 farmworkers have been hard at work for three hours in a Napa vineyard. The sky is hazy from a nearby wildfire, and the air quality clocks at 105— "unhealthy" for people with diabetes, heart, and lung disease. Jocelyn Boreta pulls in front of a barn at Silver Oak vineyard aboard her Botanical Bus filled with 100-plus dried herbs for formulating teas and a 70-herb tincture bar. She starts setting up for the day's event: the largest bilingual health clinic she's ever organized.
An hour later, her crew of about 30 masked-up practitioners—including masseuses, acupuncturists, reiki specialists, a foot nurse to help with calluses and ingrown toenails, a somatic therapist, and clinical herbalists—plus volunteers including translators, begin to arrive.
Over the course of about three hours, during a clinic sponsored by their employer, the farmworkers rotate between socially distanced care stations (massage tables, acupuncture sessions, meditation circles, sit-down chats with herbalists) as well as a diabetes workshop in the barn, and, of course, a delicious lunch of rice, beans, homemade tortilla chips, and tamales.
A descendant of a Native American and Mexican migrant farmworker (her grandmother picked fruits across the U.S. as a child), Boreta's mission is to provide care for those whom the traditional healthcare system has failed.
"This is my heart's work," Boreta says. "I really feel like this is one of the most significant accomplishments of my life."
How Healthcare Failed Latinx Farmworkers
It probably shouldn't come as a surprise that fifty-nine percent of all farmworkers in California reported having no health insurance or cited costs as a deterrent, according to the 2020 COVID-19 Farmworker Study. The report also found distrust in the authorities, government, and the medical system.
Of course, the COVID-19 pandemic has only exacerbated and further exposed the gaps in our public health infrastructure, with Latinx populations being among the hardest hit.
The COVID-related death rate for Latinx people in California is 20% higher than the statewide rate, according to a new report by ChangeLab Solutions, the California Pan-Ethnic Health Network, and Prevention Institute.
"Even before the pandemic, we had a really broken healthcare system," explains report contributor Sarait Martinez, executive director at Centro Binacional para el Desarrollo Indígena Oaxaqueño, a social services organization in Fresno, California. "We know many farmworkers are undocumented and another layer is that many struggle to get access to healthcare in their language."
A cultural gap also exists: Martinez, whose parents are farmworkers still working in the fields today, says that even back in Mexico, most people don't have access to preventative healthcare. "People aren't used to using it," she says. "It's just not in our culture."
Instead of taking medication, most people turn to natural and indigenous remedies first, she says.
Herbal Remedies As a Gateway To Conventional Medicine
Herbalism, the ancient practice of using plants for healing, "is a powerful and culturally relevant form of healthcare that has proven to encourage the Latinx and indigenous populations to seek out conventional and complementary care," says Boreta. Most of The Botanical Bus' clients ask for teas for stress relief and to help them sleep.
Last year, Boreta posted a recipe on Instagram for Passionflower Rose Agua de Jamaica, "for stress relief in the face of systemic racism."