This Guy Raced 5 Ironmans in 5 Days — Is He Crazy?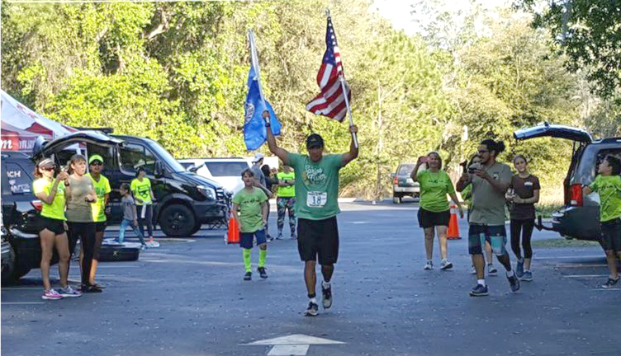 MAP MY RUN—It's one thing to sign up for a sprint or Olympic triathlon, and quite another to do an Ironman — let alone five Ironman-distance tris in five consecutive days. Everyone knows an Ironman, especially the world championships in Kona every October, is the mother of all tris. So what does that make the Quintuple Anvil Triathlon, where athletes attempt to complete five Ironman-length distances in a row? Owner and race director Steve Kirby says it's about discovering what you're made of. For most participants, the answer is "iron" in the shape of an anvil.
"This race is about pushing yourself beyond what you thought possible. There isn't any reward money involved in this sport. It's just about you, the course, the other racers and what you can do," says Kirby, who oversees the Double, Triple and Quintuple Anvil Triathlon series in Florida, Oregon and Virginia.
Participants can tackle this ultra-endeavor in one of two ways:
The continuous course lets you knock out each sport one at a time (12-mile swim, 560-mile bike, 131-mile run).
 The single distance means you do one triathlon (1.2-mile swim, 112-mile bike, 26.2-mile run) each day for five straight days.
"For the continuous, once the race begins, the clock starts, and you have 132 hours to finish. If you take a break, the clock keeps ticking. Same for the single-distance racers, however, they have 24 hours to finish each day," Kirby explains. "It is in your best interest to finish sooner rather than later so you can clean up, eat so that your body absorbs it overnight and get a good night's rest before starting the next day at 7 a.m."
Last October, the Quintuple Anvil, which cost $1,285 to enter, drew nine men and three women to do the continuous course, and three men and three women for the one-a-day. Both courses were staged in and around Lake Anna at the 2,300-acre eponymous state park in Virginia. That's 18 total participants whose ages ranged from mid-30s–mid-60s. Among the participants on the continuous course, was Erik Hanley, a 30-something engineer and college tutor from Fort Collins, Colorado, who had competed in two back-to-back Double Anvils at that point (and another this March), and was ready to go farther.
MapMyRun caught up with Hanley to get inside the head of a Quintuple Anvil athlete and understand what it takes to do the seemingly impossible.