The Rise of Female Cycling Clubs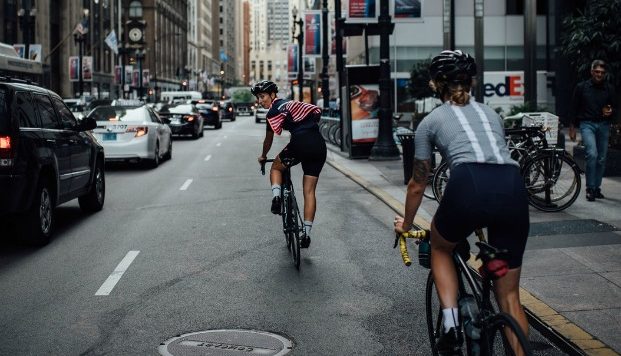 FURTHERMORE—Cyclists are turning up to ride in droves across the country in grassroots groups and with leading brands in the space, such as Rapha. "There has been a nine percent increase in cycling clubs created in the last year, and a 25 percent increase in the past two years," says Andrew Vontz, the communications lead at Strava, a global fitness tracking app and social network for athletes. Strava details which of these 134,000 clubs are morning bike commutes or "workout Wednesday" lunch rides, are near you, and whether you have friends who are participating.
Women are a big part of this rise in group riding's popularity. "It's been really fun to be part of what I can only describe as a movement of women getting other women on bikes," says Jeanne Meyer, a New York City-based marketing consultant and ride leader for local retailer Bicycle Habitat's WomensCyclingNYC group. "I became an ambassador because I remember how intimidating it was for me to start cycling in the city and how hard it was to find other people, men or women, to ride with. Knowing that I had a group waiting for me was the difference between me getting my kit on, tires pumped, and out the door—and staying home," Meyer says.
Pro mountain biking champion Rebecca Rusch, who leads #JoinTheRusch camps and clinics in conjunction with local bike shops, has also noticed a surge of interest in group cycling. "This year alone, I've done local rides in Dallas and Chicago, race course previews on the California Central Coast, in the Bay Area, Telluride, Arkansa, Minneapolis, Washington, DC, Napa, and more," says Rusch, who also recently led rides in Vietnam and Laos, where she filmed "Blood Road," which talks about the most important ride of her life (watch it for free on Red Bull TV starting November 11).
"Community is what makes any endeavor more fun, provides motivation, keeps you accountable, and helps you develop and share your skills. You do a lot more than exercise—you build friendships," Rusch says.
Helping to cultivate these riding groups and clubs, particularly among women across all disciplines (road, mountain, cyclocross, fat biking, and even e-bikes), are some of the biggest brands in biking, including these four.