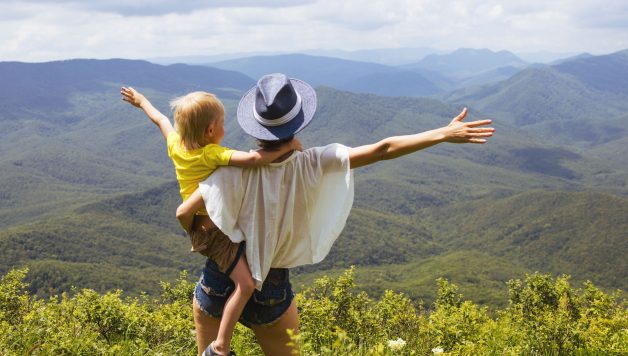 MARIE CLAIRE—A spoonful of sugar has got nothing on these sweet adventures: Eating fresh calamari in Portofino, swimming with Navy Seals in Fiji, backpacking through Montenegro and Croatia, dining with a former U.S. President. The magical Mary Poppins would struggle to make any of these extraordinary experiences real on a moment's notice. For an "adventure nanny," however, it's another day on the job.
No joke. Childcare has been reimagined and is now a coveted career choice made most enticing by elite employers, er, families from Silicon Valley and New York City and digital nomads looking for a little assistance while trotting the globe with their toddlers in tow.
Brandy Schultz tapped into this unique market when she launched Adventure Nannies as a means to support herself and then-broke boyfriend, a struggling musician. (Said boyfriend, now husband, no longer needs help; he's the lead singer of The Lumineers, Wesley Schultz.) The "original adventure nanny" herself, Schultz cultivated a niche network of families seeking someone with a certain je ne sais quoi that allowed them to care for kids in out-of-the-ordinary situations, like attending Burning Man, learning survival skills in the remote Rocky Mountain wilderness, and cliff diving in Italy. It was a no-brainer to develop an agency that specialized in matchmaking these brave broods and equally intrepid caretakers.
"In the onset of Care.com and other franchised placement services, most nannies are struggling. But we're not because we take a lot of clients that other agencies reject, like the families who have really specific desires, like, 'I need a Japanese-speaking, piano-playing childcare provider to go on tour with me'—which was a real ad," says Schultz, 34.
What began as a one-woman show in 2012 has evolved into a company of seven operational team members and a database of 9,000+ nannies and private educators serving more than 700 families—often musicians, actors, or tech execs—around the globe (22 countries and counting). "It's our goal to send the first nanny into space!" Schultz half-jokes. On top of the enviable travel perks, adventure nannies can make serious cash, too. Annual salaries range from $60,000 to $140,000, as one nanny confessed.
The criteria for a sweet gig like this is at least two years of professional childcare experience and a Bachelor's degree or higher (though there are exceptions). Other than that, Adventure Nannies is open to all prior career backgrounds, including professional athletes, computer programmers, ex-military, published authors, historians, macrobiotic chefs, to name a handful of previous professions. If you speak multiple languages that's a bonus. Also: Must. Love. Kids. (Obviously.) Keep reading if you do—and are ready to ditch your desk job to become a jet setter.