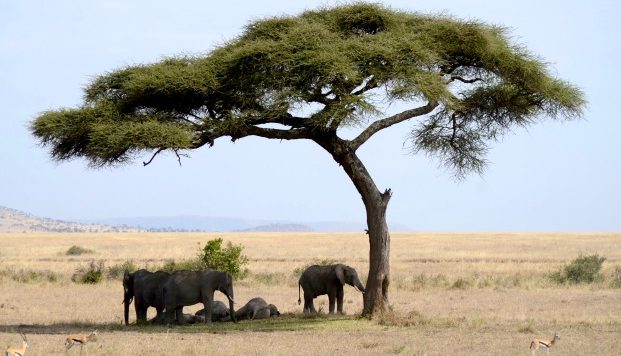 NATIONAL GEOGRAPHIC ADVENTURE—Minutes into our cycling group's first meeting, someone shares a popular YouTube video of a mountain biker getting taken out by a gazelle while riding through African grasslands. Everyone laughs, and then Justaz Mollel, the tour leader on this 13-day bike trip through Tanzania, informs the group that the clip was shot in Arusha National Park, where we'll start our adventure the next day. Silence.
Turns out, the 2011 GoPro video was actually filmed in South Africa, but point taken: Wild, unpredictable animals will be roaming freely as you pedal through some of Africa's most beautiful landscapes. The joys and challenges of trading a jeep or bus—how most people safari—for two wheels is why this Intrepid trip has been nearly sold out during its inaugural year. People are lining up to be among the first to bike in northern Tanzania's Arusha National Park, the country's smallest safari park at 212 square miles.
Mollel, an Arusha native and past Mount Kilimanjaro guide, was recruited to launch the new bike route, which covers around 180 miles of dusty, rewarding trails. And with five built-in rest days across the region, the trip also allows for plenty of Big Five photo opportunities in Serengeti National Park and Ngorongoro Crater.
Here are 10 reasons why you should pedal your way through Tanzania's national parks.