Sensory Overload or the Best Spin Class Ever?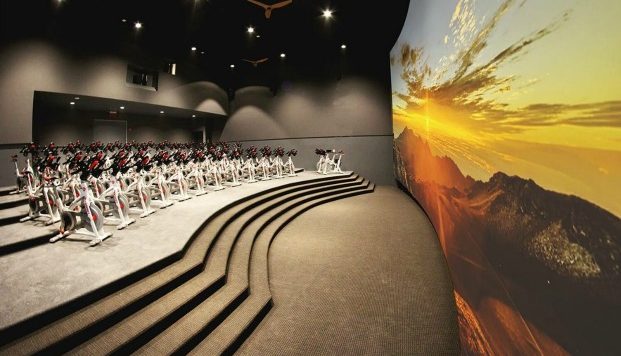 MAP MY RUN—IMAX isn't just for Hollywood blockbusters anymore. A new breed of indoor cycling class is offering that same total immersion experience. From that larger-than-life screen to incredible surround sound, IMAXShift is bringing that at-the-movies escape to your workout — and it's happening now in Brooklyn.
"The fitness market has been migrating toward technology integration for a while, starting with little TVs on equipment and then iPod playlists that let you curate a musical journey through a class," says Bryan Marcovici, the chief executive of IMAXShift. "With IMAX, we wanted to change the game. It's not just about bringing a bigger screen and better sound but tying those elements together to create a cohesive package for the rider to hear it, see it and do it."
The boutique fitness studio, which opened this May in an industrial building where torpedoes were made during World War I, features a room full of 50 Schwinn stationary bikes lined up — much like theater seats — in front of a 40-foot-wide by 24-foot-tall curving screen. Because IMAX is all about that bass, the space is equipped with a 7.1-channel surround-sound system that includes two huge subwoofers built right into the floor. To avoid blocking the breathtaking view on screen, the instructor (so far, there are six on the roster) is set off to the left at the front of the room.