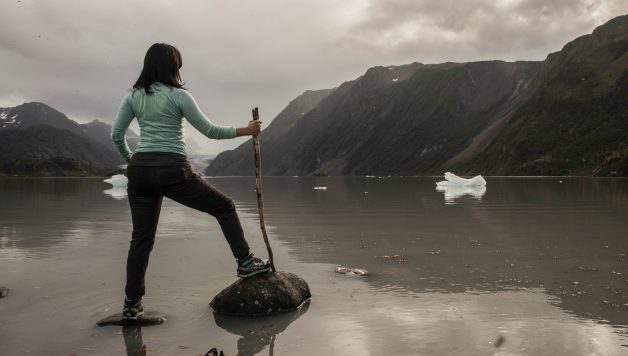 Ten days exploring Alaska as part of the annual ATTA Adventure Travel World Summit in September was not enough for me to fully take in this 49th state's epic beauty. In that short time, however, I was able to understand that the "last frontier" really is just that: A remote place that is slowly and consciously being settled by brave, resourceful people (730K+) who respect the land and understand that Mother Nature still reigns.
Here I am, studying her majesty on the well-groomed Grewingk Glacier trail just outside Halibut Cove (total population: 15) where I was staying at the cozy, welcoming, boutique resort, the Stillpoint Lodge (a short float plane ride from Homer). In the distance, you can see a glimpse of the 13-mile-long Grewingk Glacier, nestled in the Kenai Mountains, which we later kayaked to in the pouring rain to get a closer look an enormous the recently calved iceberg.
The talented, world-renown Dutch photographer René Koster captures my "I'm going to conquer you" look mid-way through our extraordinary adventure with our Stillpoint Lodge hosts.