Massy Arias is One Fit Mama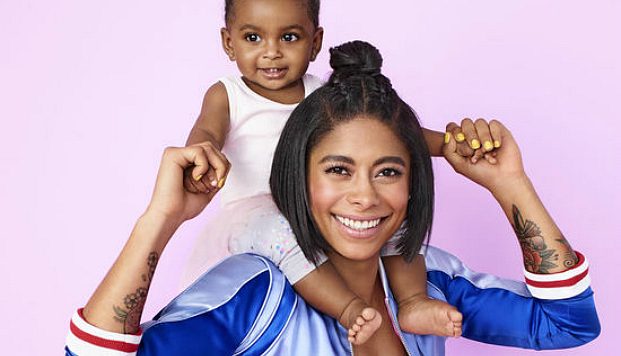 PARENTS LATINA MAGAZINE—When it comes to mom bods, Massy Arias's is athletic, confident, and always on the move, as evidenced by the Dominican-born fitness coach's Instagram channel. That's where her more than 2.4 million followers go for creative workouts, club-worthy dance routines, and motivational words, delivered in both English and Spanish. It's also where they get to fawn over photos of her adorable 14-month-old daughter, Indi (short for Indira). After all, she's the reason Arias feels more powerful than ever. "I'm stronger, mentally and physically, than before I had her," says the 29-year-old, who now lives in Los Angeles with her handsome husband and business partner, Stefan, little Indi, and their Boston terrier, Pepper.
Forget that Arias can do a 300-pound barbell squat. She's referring to a different kind of strong—the kind that comes after surviving the first year with a new baby, which all moms can relate to, and overcoming postpartum anxiety in between, which not all moms will talk about as candidly as she has in the Latino community, where mental-illness stigmas still prevail. "I wasn't showering. I wouldn't eat. I would spend my days crying for no reason. And I didn't feel a connection to Indi until weeks after," admits Arias. That willingness to keep it real with her audience, or tribe as she calls her social-media family, has its ups and downs.
"They can be supportive but also judgmental," says Arias, who was virtually chastised for getting back into the gym shortly after Indi was born. "Some people would say, 'Look at her, she's working out because she wants her body back. She's supposed to be enjoying her baby,' " recalls Arias. "They didn't know I was trying to beat my depression the best way I knew how—through exercise." While she was thankful that so many of her loyal followers defended her, Arias was able to find her stride as a new mom in her own time. "I don't let anything stop me, and that's why I'm here today," she says.
Arias's ability to keep going no matter what has certainly taken her far. Aside from launching her own line of supplements and running a thriving online personal- training business, last year she became a brand ambassador for CoverGirl and Target's C9 Champion activewear. Recently, Arias, who loves to offer others inspiration every chance she gets, stopped moving long enough to share how we can all silence any self-doubt and stay focused on what's ahead.