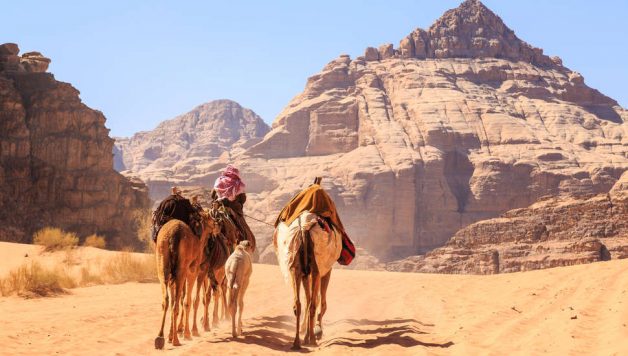 THRILLIST—One of the Middle East's safest destinations brims with antiquities and otherworldly vistas
Unlike its headline-making neighbors, Jordan gets less press and here's why: it's largely a peaceful and welcoming Arabic country with a government that protects the freedom of religion for everyone.
In a famously dry country associated with deserts and camels, Jordan's coolest activities have you stripping down to your swimsuit. Scuba diving and snorkeling are probably the last thing you'd expect, but luckily Go Aqaba Travel & Tourism or Sindbad Group can help you experience both in the warm waters of the Red Sea. Seeking the red sands of your Arabian night dreams? Hop on a hump and join adventure providers camping with nomadic Bedouins, all beneath a starry sky in one of earth's most beautiful deserts, Wadi Rum. Dubbed "Valley of the Moon," this is just one of several UNESCO World Heritage sites in Jordan, including the iconic Petra, or "Rose City," the desert castle of Quseir Amra, and the Roman military camp, Umm er-Rasas.
There's no better way to get intimate with the country's otherworldly landscapes than by hiking the Jordan Trail. The cross-country path opened in 2016, connecting ancient trade routes from north to south across some 400 miles, cutting through 52 villages and towns. To complete it in one fell swoop could take 40 days. Alternatively, try sister route, the Jordan Bike Trail, a 15-day journey of mixed-track cycling across more than 430 miles of rolling hills, farmlands, mountains, deserts, canyons and more, including the Dead Sea, Petra and Wadi Rum. — Cristina Goyanes